By: Express News Service | Pune |
Updated: August 2, 2020 11:07:25 pm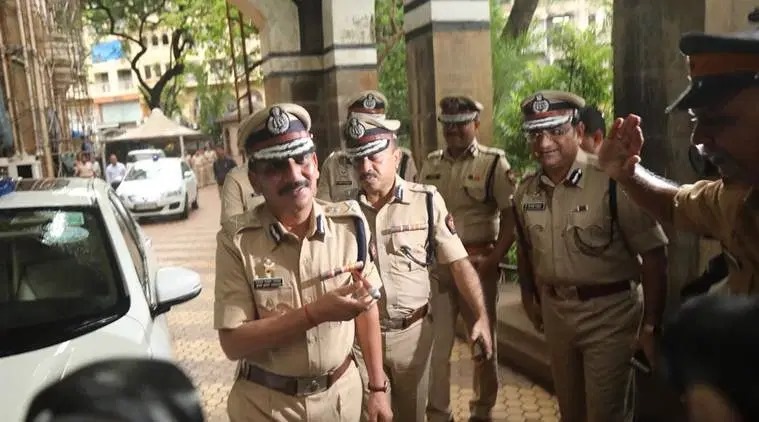 Maharashtra Director General of Police Subodh Kumar Jaiswal. (File)
EXPRESSING concern over deaths of more than 100 personnel in the Maharashtra Police force due to coronavirus disease (Covid-19), state Director General of Police Subodh Kumar Jaiswal stressed on increasing physical fitness of the personnel.
On Saturday evening, DGP Jaiswal visited the Pune Police Commissionerate to review various steps and initiatives taken by the city police in response to the Covid-19 pandemic. He also interacted with the senior officers and constabulary from the city police and discussed challenges faced by them. He also inaugurated the newly constructed building of the Crime Branch of the Pune City Police.
Pune Police Commissioner K Venkatesham briefed Jaiswal on the roles played by the city police in implementing lockdown, containment zones, contact tracing of Covid-19 patients, facilitating homeward and return journey of migrant labours, issuing travel passes and various welfare measures through the social policing cell during the pandemic.
He was given a detailed presentation about various technology driven initiatives of the Pune police, including Service Excellence and Victim Assistant (SEVA), Crime Intensive Response Project, Digital Chargesheets, Externee Tracking ExTra application, which were appreciated by DGP Jaiswal. He said the SEVA initiative has the potential to be a model for all other jurisdictions.
Jaiswal expressed concern over the deaths of over 100 cops due to Covid-19 in the state. He stressed on increasing the level of physical fitness among officers and constabulary staff.
Of the total 9,566 Covid-19 cases in the police force of Maharashtra as reported till Sunday morning, till now, 7,534 have recovered while the state has 1,929 active cases. As many as 103 personnel, including nine officers and 94 constabulary staff, have succumbed to the infection.
Besides Venkatesham, Joint Commissioner of Police Ravindra Shisve, Additional Commissioners Sunil Fulari, Ashok Morale, Sanjay Shinde and Deputy Commissioners Bachchan Singh, Virendra Mishra, Pankaj Deshmukh, Swapna Gore, Pornima Gaikwad, Mitesh Ghatte, Suhas Bawache, Sambhaji Kadam and Prasad Akkanavaru were also present during the meeting with the state DGP.
📣 The Indian Express is now on Telegram. Click here to join our channel (@indianexpress) and stay updated with the latest headlines
For all the latest India News, download Indian Express App.
© The Indian Express (P) Ltd